We can play tennis again - Friday 15th May 2020.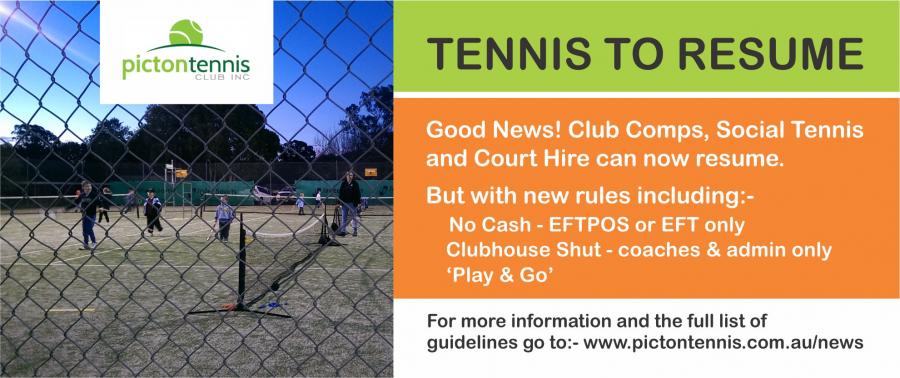 Following easing of COVID 19 restrictions in NSW, community tennis is now permitted. We have received the new Guidelines for Continued Play from Tennis NSW. Picton Tennis Club will implement from Friday 15th May to ensure our tennis community remains active and minimise the effects and potential spread of COVID-19.
For anyone who wishes to ready the new guidelines in full - click here.
Please find below a summary of new rules:-

Stay at home if you:
Have been in contact with someone with COVID-19 in the last 14 days
Have been overseas or exposed to someone with COVID-19 in the last 14 days
Have flu-like symptoms
If you are in a high risk health category
Social distancing
Touch racquets instead of the regular pre or post match handshakes
Keep 1.5 metres away from other people while watching or playing tennis
Hygieine
Wash/sterilise your hands before and after you play and avoid touching your face while playing
A Hand Sanitiser Station has been installed within the venue for everyone to use. DO NOT REMOVE.
Playing tennis
Court Hire, Club Competitions and Social Tennis are now permitted
Maximum of 4 people per court
Payments to be made online or via EFTPOS – avoid handling cash
'Play & Go' - leave the venue when finished
Clubhouse Shut - Access allowed for coaching staff and comp organisers ONLY
Payment by direct deposit - Banking details
Account name: Picton Tennis Club
BSB: 802 388
Account no: 1000 63980
Payment reference - player name